Honest craftsmanship, customer service and courage to seek new solutions

For three decades already

At this year's International Defense and Security Technology Fair (IDET), a Škoda Kodiaq which was quite ordinary at first glance was on display at the Brno Exhibition Center. Only when visitors opened its doors, they noticed a higher weight than in a standard production vehicle. This Škoda Kodiaq was a discreetly ballistically protected car. "This is exactly what we wanted so that no one would notice straight away that it was a vehicle with ballistic protection," confirms Josef Jíša, owner of the family company JÍŠA, which developed the car together with Israeli partner Plasan Re'em.
How a family business is born
The owner of the company shares with his grandfather Josef Jíša, who was a carpenter, not only his name, but mainly the love of craftsmanship. His grandfather used to say, "Do your craft as best you can, meet your customer requests, and the rest will come", and the grandson follows this advice.
In 1991, he began repairing passenger cars in a garage. Over time, the number of orders and collaborators increased, so the company soon moved to their current headquarters in Prague 9, Kolčavka, and started renovating the premises. From the very beginning, it was a family business of the Jíša family: Josef's wife Irena is the main accountant, and over time, both sons, Josef and Adam, joined. "Our employees is our greatest asset. Some of them have been with us for decades, practically since school, "adds Josef Jíša.
---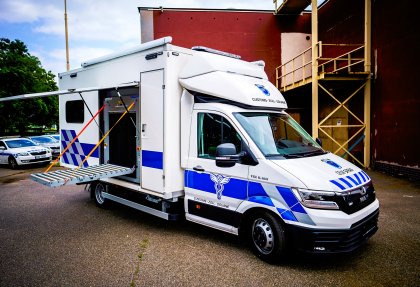 The mobile dual-view luggage scanner was supplied by JÍŠA together with PCS to the General Directorate of Customs. You won't find any other like that in the world.
---
From repairs to innovations
The company operates a car service under the auspices of Bosch Car Service, a car body shop and a paint shop. However, the icing on the cake are custom conversions of cars and lorries for special purposes based on specific customer needs, up to a maximum total weight of twelve tons. "That's the biggest we can fit at our shopfloor at the moment. But this will change as we move to the new headquarters, which we are currently building in Kbely," says Josef Jíša. The company also has a sister called JÍŠA rent – car s.r.o., offering over one thousand long-term vehicle leases, which brings important synergies.
"Vehicle conversions have led us to the idea of ​​creating a ballistic-protected passenger car. We serve armed forces as one of our most important customers. We did not just want to sit and watch as the security situation in Europe is getting worse. We want to provide a higher level of protection for those who put their own health and lives at risk for the safety of us all. For example, so that police officers, while they intervene against armed offenders do not drive in ordinary cars virtually unarmed when it comes to vehicle protection," Josef Jíša Jr. explains.
Cooperation with Israeli partner
From the decision to build a discreetly ballistic-protected vehicle, the journey went on for JÍŠA. Through their Israeli friends, they met the renowned Israeli company Plasan Re'em, a long-standing manufacturer of civilian ballistic-protected vehicles. Its director and chief designer Kobi Ben Ari has invented the technology of removable ballistic panels. He developed the technology for military applications during his previous work for the parent company Plasan Sasa. Now he uses his expertise for secret vehicle armouring.
The main area of focus for Plasan Re'em are light and cost-effective solutions for protection systems based on steel, steel composites and ceramic composites. The company uses 3D design that allows testing of overlaps and ballistics shapes. The procedure leads to optimum protection tailored to required threat levels, weight and cost. As an expert in processing armour steel, Plasan Re'em also uses advanced Ultra High Hardness steel. The company's advantage is that all manufacturing is done in-house, all materials and components have verified origin and are analysed to ensure quality. Vehicles are strengthened in order to protect the crew and let them perform their demanding jobs in a safe way. With the help of their own testing laboratory, Plasan Re'em have developed a number of material and geometric solutions against the threat of kinetic energy from firing or explosion.
"We chose the Škoda Kodiaq as the most suitable vehicle for the Czech and therefore European environment. The concept of the SUV allows you to cross light obstacles on the road and drive on unpaved roads. The main advantage, however, is that you will often find the Kodiaq on the road as both a civilian and police car. The ballistically protected Kodiaq does not stand out in any way, which was the main idea from the beginning," Josef Jíša explains.
The armoured vehicle is therefore built on the basis of a commercial vehicle, which corresponds to the way it is operated and maintained. Reinforced chassis suspension has been developed to achieve driving characteristics of a standard vehicle. With the help of a specialized company focused on development and production of suspension for racing vehicles in the Czech Republic, a completely new chassis suspension was developed, fine-tuned and approved. This modification compensates for the increased load on the car but also provides it with exceptional driving characteristics, which are key to its deployment within the work of the security forces.
"I dare say that we have launched to the market a vehicle that combines excellent driving characteristics with ballistic protection at a level corresponding to the risks which occur on the streets of European cities. The strengthened Kodiaqs can be sold as well as rented via our rental company to those interested in the security community, depending on their current needs and possibilities. Of course, it would be best if we didn't have to think about such means of security at all, but it is impossible to turn a blind eye to reality," Josef Jíša concludes.
Written by Jana Jenšíková
Photo credits: Marek Jenšík and JÍŠA