Even fences can connect
Pletiva Dobrý a Urbánek was founded in 2013 based on an equal share of both company co-owners. Thanks to clearly defined roles in the company, a stable team of experienced employees, and cooperation with the National Development Bank it has expanded every year ever since. "We own two locations with large stock. To buy these premises we used the NDB's product. I dare say that it was one of the key moments in the company history," Tomáš Urbánek describes. Gradually, their original company was joined by other projects, and this year everything culminates in the transformation of their business into a holding company.
HOW TO GROW AT THE BEGINNING
If you want to run a successful business, you first have to know something really well, to understand your field of expertise. Messrs. Urbánek and Dobrý make a great example of this fact: one understands online marketing and business management, and the other is an expert in technical solutions provided to customers. The clear role definition of the general and technical manager and the synergy of the individual skills of the co-owners propelled the company among the top mesh and fences providers in the Czech Republic within ten years.
Particularly when starting a business, sometimes it is really difficult to guarantee your operational financing because the company does not have its own assets to pledge. The experience of Tomáš Urbánek tells him the same, "I dare say that we would have never grown this big if the NDB had not provided us with a guarantee. The fact that we have huge stocks today is also thanks to that guarantee. At first sight, the application form looks administratively demanding, but the bank advisers do a great job and are extremely helpful in filling out all necessary documents."
Given the current turbulent times, stocking up on a sufficient quantity of products is crucial not only to starting businesses. In many market segments, it is not uncommon that scheduled deliveries are delayed by months, some items even longer than a year. "I can´t imagine, if we had not had the stocks financed by operating loans, what we would be selling to our customers today," confirms the CEO.
HOW TO MOVE FROM STABILITY TO EXPANSION
During its existence, the company has built four branches: three in the Czech Republic and one in Slovakia. Two of them, Ledce near Plzeň in West Bohemia and Zliv near České Budějovice in South Bohemia, are located on their own premises. The headquarters in Ledce is located on a site with an area of more than 40,000 m2, where there are large stocks of all products offered. Stock availability is the company´s greatest advantage, as it guarantees stable deliveries to customers even when there are several months of iron supply shortages on the market.
Tomáš Urbánek considers the purchase of these two premises, in which they used the NDB Expanze loan product, to be one of the most important moments in the company's history: "Since 2018, when we bought the premises in Ledce, we have grown from a turnover of CZK 117.5 million to CZK 238.8 million in three years. It is a feeling shared across the entire team that we are in our "own", and can therefore provide our customers with maximum care. With this purchase, we have achieved real stability and gained solid ground under our feet, which has started a huge expansion."
HOW TO SYNERGIZE YOUR ACTIVITIES
In addition to the company Pletiva Dobrý a Urbánek s.r.o., the two business partners are now co-owners of two other profitable companies and a non-profit project Farmapark u Toma. All projects complement and reinforce each other.
Zahrada Ježek has been in operation since the end of 2017. The minority owner is Jan Ježek, formerly the financial director of the company Pletiva Dobrý a Urbánek. The majority owners founded the company with the intention of using their experience in e-commerce, which turned out to be a good strategy. Last year, they reached a turnover of CZK 70 million excluding VAT and served more than 15,000 customers.
Krmiva u Toma was founded during the covid pandemic. At the headquarters in Ledce, there were vacant warehouse space and an office building, so the decision was made to create a new project, with the aim of further stabilization. They opened the company in the autumn of 2020, achieved a turnover of CZK 37 million excluding VAT and served 50,846 customers last year. As Tomáš Urbánek says: "Breeding supplies is a very demanding segment, but this sector won because of its absolute independence from any crisis, which fitted perfectly into our strategic plan. Once again, we have proven that being in your own space has an incredibly positive effect on expansion. Krmiva currently has three operating stores: two in Plzeň and one at the headquarters in Ledce."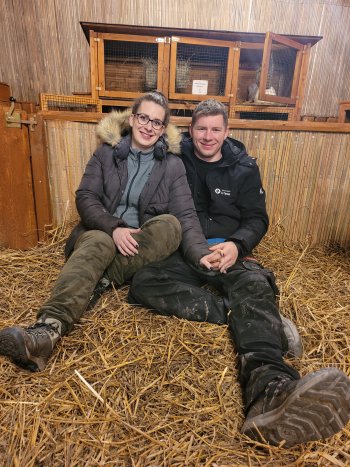 And it was Krmiva u Toma that was the driver in setting up the non-profit association Farmapark u Toma. The company premises in Ledce also include a 20,000 m2 plot of land, which was degraded by the industrial production of kaolin in the 1950s. "We have gradually cleared the land," explains Tomáš Urbánek, "and today we have used about 1/3 of the area just for the Farmapark. In the next two years, we want to expand the park to the entire area. Since the opening, the number of visitors has been in the thousands. The Farmapark project makes us very happy and at the same time it attracts many people to our local fence and breeding supplies store."
Tomáš Urbánek, co-owner and CEO of the company
Before the company was set up, he did business in online marketing. In 2012, it led him to cooperate with František Dobrý in building an e-shop with fences. In 2013, they founded Pletiva Dobrý a Urbánek s.r.o. with equal shares.
HOW TO GROW FURTHER
The CEO is not worried about problems related to lack of materials or employees. Supply shortfalls do not threaten the company thanks to the large warehouse stocks discussed above, and they do not feel a shortage of workers thanks to their human-oriented corporate culture. "Yes, human resources have been depleted, that is true. Managers of some companies look at employees as human resources, as an item in their charts that brings the company some financial value at a given cost. Unlike them, we don't approach people as human resources, but as friends. Everyone in the team knows that they can rely on the company and at the same time they are very well trained in what we can do and what we can offer to the customer to help them solve their problem. We do not sell materials to our customers, but we help them solve their problems."
This year, the company is undergoing a transformation to a holding structure. The parent company PDU holding s.r.o. was founded last year, and this year the companies will be transformed into subsidiaries. "In business, I have seen several times that a well-organized group achieves much better results than an individual – no matter how efficient they are, an individual can never compete with a group," adds Tomáš Urbánek.
Written by Martina Hošková
Photo credits: Pletiva Dobrý a Urbánek
Celý článek si přečtěte v tištěné verzi TRADE NEWS 3 / 2022 na straně 72-74.