We are actively looking for opportunities

We have adapted our activities to any country

"Besides Europe, which is our main export territory, we have several Latin American countries in our export portfolio, Mexico and Brazil in particular. As industrial production moves around the world in the global economy, we follow it with our products and services," Igor Láník Jr. and his brother Boris explain, adding that the relocation trend in world markets has not surprised them. Their family company LANIK manufactures and sells technical ceramics for foundries, mainly ceramic foam filters, ceramic cups and ceramic cores for precision casting.

After the first experience in Argentina in the early 2000s and occasional deliveries to Peru, Venezuela, Chile and Colombia, the company has firmly established itself in Latin America in Mexico and Brazil, where it reaches very decent revenues. In Brazil, the year-on-year increase in sales between 2020 and 2021 was 250% and in Mexico, it was even 290%. Many Czech SME exporters see great potential in Latin America but may sometimes lack the necessary patience to build functional business relations there.

"We are actively looking for opportunities. We are present in many territories, from Japan to Latin America. At one point, we had big contracts in England. When the foundry industry moved from there to India, we followed suit. There was a similar development in the US and Mexico. However, such a remote destination requires a lot of travel. Before the business took off, I would visit our end customers three times a year. With the covid-19 pandemic, changes have come in many ways. We have learned to work more online, and we deal with our partners through video conferencing," notes Petr Boháček, the company's sales director.

Mexico is a foundry hub

Mexico spotted the growing trend of non-ferrous metal alloys in the automotive industry in time and became one of the largest manufacturers of castings in the world. In 2020, there were about 1,080 foundry companies in Mexico. In the north of the country in particular (in the states of Nuevo León and Coahuila) and in the west in Jalisco, there were new foundries emerging almost every day.

"Our Mexican customer network consists of both SMEs, mostly family businesses, and multinational corporations. We have excellent partners in Mexico, who are sophisticated, educated and with a lot of experience in international trade. There is no need to be fluent in Spanish or Portuguese. In our relations with all our foreign partners, we only use English so that we are all on the same level when it comes to negotiations. Our customers appreciate the quality of our products and our reliable deliveries, particularly now when global supply chains are collapsing. When we had to negotiate increasing energy and material prices or the current issues with logistics, which they sometimes arrange themselves, it was easier to deal with our Latin American partners than with European customers," Petr Boháček points out.

Boris Láník adds: "The foundry sector to which we supply our products is relatively conservative, prices are contracted in advance and do not change much. It wasn't until the beginning of this year that, after a long time, we made our products a bit more expensive and introduced an energy surcharge in April, to reflect the increase in energy prices on the market. All our customers accepted the new prices." According to the production director, many European and American companies may have realized how risky the massive dependence on castings and materials supply from China could be, largely due to the pandemic and the subsequent logistics issues. But diversifying the range of suppliers is not something that will happen overnight.

You will never know until you try for yourself

The "gas shock" that hit the Czech industry this year can be compared without exaggeration to the "oil shock" of the 1970s. Natural gas is used throughout our economy and the sharp increase in gas price also had to be reflected in the prices of LANIK products.

"There is no point in complaining. We had to think about what we can do about the situation ourselves. We got inspired by our production and development staff and put their good ideas into practice and found out that we can save 10-20% of our energy costs this way. This already makes for interesting numbers given our production volumes. Sometimes it seems almost unbelievable that when it gets tough, there's always a way to make production more efficient. We have always been looking for ways to save costs. During the completion of our office building, we implemented a relatively complex technology of re-using waste heat from our furnaces for office heating, hot water as well as air conditioning. When the gas price began to grow, we thought about how to use the technology of kilns more efficiently, and within a month we came up with a solution that brought savings of around 5-10%," CEO Igor Láník Jr. describes.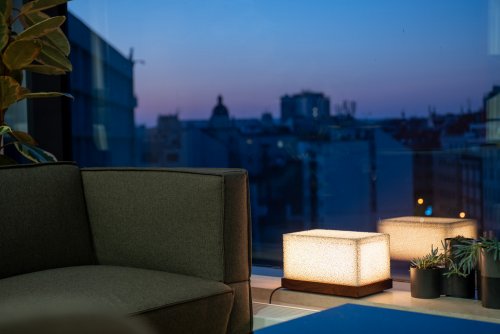 Foundry is a less prominent industry but it lies behind everything
At first glance, foundry may seem like a dirty and outdated industry, on the fringes of student interest. At the same time, it is a sophisticated and complicated field no modern industry can do without, starting with the automotive and engineering industries and ending with the production of joint replacements.
"Both foundry and related engineering fields as well as technological disciplines would benefit greatly from interdisciplinary connections. We have a long-term cooperation with the Foundry Department at the Institute of Engineering Technology, Brno University of Technology and we support the teaching of traditional and modern foundry technologies. We help the school with our experience and we lend them our machinery that is too costly for them to buy," Igor Láník Jr. explains. Their long-term cooperation with the academia currently includes two projects. One is run as part of the Technology Agency of the Czech Republic together with Brno University of Technology in the field of foundry and refractory ceramics, and the other is part of the Operational Programme Enterprise and Innovations for Competitiveness together with the University of Chemistry and Technology in Prague in the field of photocatalytically active ceramic coatings.
"We try to actively seek out and promote the use of our products outside the traditional foundry industry. At present, for example, we are discovering the possibilities of using foam ceramics in architecture and design. We want to move our products to this non-foundry world and we offer them as an interesting material under the Cerastruct brand, particularly to architects. And all of a sudden, we find out how beautiful this consumable material can look," Petr Boháček points out.
Be confident and think internationally
The global economic crisis that broke out in 2008 has shown that competent companies will still have a lot of opportunities to win the business of competitors who stumbled or hesitated. At about that time, LANIK also began to systematically expand into non-European markets and strengthen its territorial export balance.
"Our investment strategy runs in two directions. First, we spend tens of millions of crowns on the renewal and development of our machinery every year. In 2020, for example, we completed an office building, labs and sanitary facilities for our staff, including modern technologies for the use of waste heat from production. We also use additional funds for production automation and robotization projects to reduce the share of labour-intensive work, increase efficiency, and thus maintain the growth rate of our employees' salaries. Second, we focus on acquisitions in our investment strategy. In 2015, we started building a holding company structure, with the first company acquired being Teplotechna průmyslové pece Olomouc (TPP), which designs and implements industrial furnaces for heat treatment, hot-dip galvanization, aluminium smelting and ceramic production. Last year, we acquired the Brno-based company ROMILL, which deals with industrial microwave heating, and the construction and engineering company ACERTA," Igor Láník Jr. adds.
Written by Věra Vortelová
Photo credits: LANIK
Celý článek si přečtěte v tištěné verzi TRADE NEWS 3 / 2022 na straně 30-32.