Energy transformation is a responsibility of the whole company
Resilience is a term that Czech society should get used to. Experts estimate that abandoning coal in the Czech Republic may increase electricity prices by up to 60 percent by the end of the decade. Cogeneration can be an effective solution for strengthening energy resilience via one's own electricity and heat production, particularly for the SME segment. The Brno-based innovative company GENTEC-CHP has quickly managed to become one of the world leaders in the development, production and sale of cogeneration units.
"When I returned home after my studies abroad in 2011, my father and I were thinking about how to expand the product portfolio of the Karla engineering group, which was founded in 1991 by my parents. When we were mapping the possibilities of using hydrogen in our own final product, we were surprised by the fact that at that time there were only two producers of cogeneration units in the Czech market," recalls Václav Klein, director of GENTEC CHP.
"As part of Karla Group and with its support, me and my father Leopold Klein, as a mentor and initiator of the cogeneration unit project, started developing, building a team and supply chain, and within a year we built the first prototypes of cogeneration units. We paid special attention to the selection of subcontractors. We focus on high quality of our products, which is why we also purchase most of the components from renowned foreign manufacturers."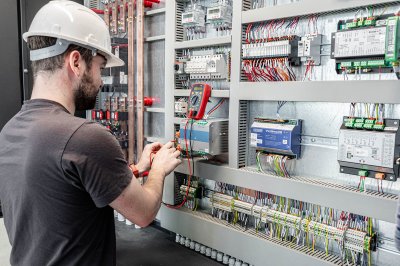 Hydrogen brings hope
"Since GENTEC CHP was founded in 2016, its team has grown to about fifty people. Because we outsource some activities, particularly in construction and deliveries of turnkey boiler rooms, we employ up to two hundred external workers during the year."
The times of energy prosperity are coming to an end, but according to Václav Klein, this does not necessarily mean huge price increases, instability of the distribution system and social tensions. "We need to have a factual discussion in the energy community and to determine the optimum energy mix which will comprise nuclear energy and photovoltaics, wind energy, heat pumps, gas turbines or cogeneration units. Unlike photovoltaics and wind turbines, cogeneration units have indisputable benefits such as independence from weather and external influences, high efficiency, the ability to produce not only electricity and heat, but also cold or hot water, steam or treated carbon dioxide for use in greenhouses. Thanks to the use of catalysts or SCR technology, they can also reduce emissions to a minimum.
We have high hopes for hydrogen as the cleanest fuel with the highest energy content. We cooperate with VSB - Technical University of Ostrava in the development of a hydrogen cogeneration unit and with the Brno University of Technology in the development of control systems for cogeneration units. This year, Karla Group received a grant from the Technology Agency of the Czech Republic for a project of AI- and machine-learning-based virtual power plant control system, in which GENTEC also participates," the director outlines the company's long-term strategy.
GENTEC also spends considerable resources on the development of large slow-running cogeneration plants with an output of 3 to 12 MW for Czech heating plants, which are facing increasing costs for emission allowances. According to Václav Klein, this technology would help heating plants solve this problem, because it proves to be almost immune to price movements in the market. With its launch, GENTEC CHP would be one of the first companies to operate slow-running cogenerations in the heating plant mode.
We have high hopes for hydrogen as the cleanest fuel with the highest energy content.
Premiere took place in the most demanding markets
"We have been preparing for expansion abroad for eight years. When we finally made the decision, the global pandemic broke out," Mr. Klein laughs. "Yet we still have managed to set ourselves up in eight European markets, including the UK, Ireland, Austria and the Balkans. We currently export about 50 percent of our production and our goal is to increase exports even more. Next year we are looking to expand to the US and in 2023 to Canada. We would also like to take part in the 2022 trade fair in Hannover, where we want to test our preparedness to succeed overseas and present ourselves to the markets in which we are not yet active. Germany, being the largest market in Europe with domestic competition, which is one of the world's best, is a reference point for us."
As a supplier of final, technologically complex products, the company has chosen to enter foreign markets through intermediaries which have the technical and knowledge base for installation and service, or to whom GENTEC provides a proven contractual service partner. For export activities, GENTEC relies mainly on their own market research or uses the services of CzechTrade. "We have a team of experienced salesmen, but at the same time we give our foreign partners the opportunity to build their own sales and service networks. We provide turnkey delivery only to Czech customers, so that we do not lose feedback and can respond flexibly to market needs," the manager concludes.
In the Czech Republic, GENTEC CHP is the exclusive supplier of innogy Energo and also the largest supplier of Veolia Energie, Komterm, Teplárny Brno and many other entities. One of the longest-running GENTEC cogeneration units has been in operation for eight years now at Sedlecký kaolin. The Czech producer of hemp and natural cosmetics Naturfyt - Bio has been much satisfied with GENTEC's trigeneration unit, and the KE-MTUNG cogeneration units supply electricity and heat for tomato growing in greenhouses in Mutěnice.
Written by Věra Vortelová
Photo credits: GENTEC CHP
Článek si přečtěte v tištěné verzi TRADE NEWS 6 / 2021.